A Trilogy of True Tales
With Flights of Fancy, Souls of Grace, a final collection of local but thoroughly universal stories from extraordinary lives, the trilogy of true tales from Richie's 40-plus year career in community journalism is complete.
"It's a gem!" - Bill Newman, WHMP
In 20-plus riveting stories from western Massachusetts, you'll discover how one Turners Falls entrepreneur, day by day, turned a dilapidated, vacant laundromat into a destination restaurant ... what a mother of two deaf daughters learns about a non-hearing galaxy of issues ... how a sculptor finds a world of lightness in the stone he carves ... where two time zones converge and residents find ways of coping ... how and why a sheep shearer turns to a traditional ways ... and how an aging concientious pacifist and a young West African woman remain committed to lives of social action.
A nearly 100-year-old woman shares her story of pioneering in alternative education and remaining a free spirit, an award-winning engraver recalls growing up with racism and a bullying brother in Tennessee, a Gospel-singing workshop leader inspires groups with lessons about her African-American legacy ...... and ways a restorative justice program gives young people and the communities they've hurt a chance to heal, even as veterans of domestic conflicts around the world help Americans think about ways to safeguard democracy in this country.
Plus, a far-flung tour of the homeland of Elsie the Cow, Dr. Seuss, Mary's little lamb, Jack Kerouac, Sojourner Truth and much, much more.
"Each Richie Davis byline illustrates an essential element of what makes him the special storyteller he is: an uncanny ability to uncover the magic hidden in everyday existence."
- Pat Ryan and Tim Hilchey, from foreword
Learn more about the book HERE: interviews, articles and more.
BUY IT NOW!!

Flights of Fancy, Souls of Grace is available at World Eye Bookshop, the Montague Book Mill, other local book shops and
at the

bottom of this page

.
---
In Good Will & Ice Cream, self-taught fiddler David Kaynor magically weaves a sense of deep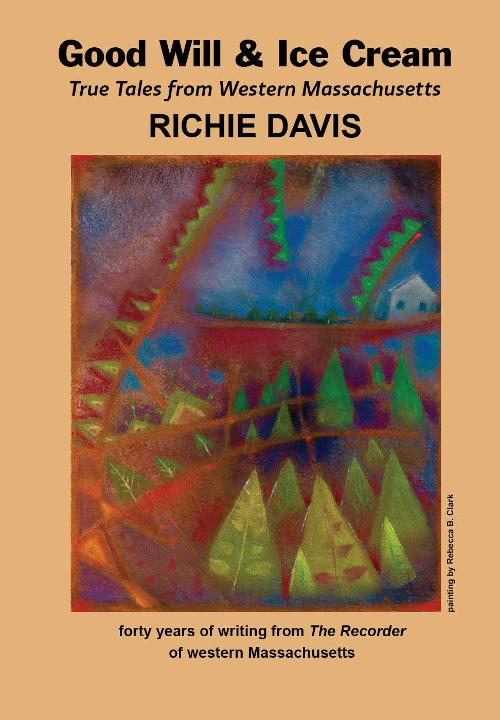 community with his bow and heart, a recovering substance abuser becomes chauffeur, bodyguard and sometimes wrestling buddy for the Dalai Lama, and you're invited to take a front-row seat on a grand taste-testing tour of The Ice Cream parlors of Franklin County.
Come share time filmmaker Ken Burns, a minister and his wife who rescued hundreds of refugees from the Nazis, and saxophonist Paul Winter.
The second book of remarkable stories from 40-plus years of reporting is a celebration of community that offers a taste of global conflict transformation, a visit with classical music radio host Robert J. Lurtsema, hardscrabble old Yankees from the documentry 'Root Hog or Die,' and kids immersing themselves in ancient dances.
Evoking everything from Woody Guthrie to reflections at Auschwitz and "Grow Good Everywhere" farming, these and other true tales from 40 years of community journalism come alive in this lively collection.
"I love the book… What the book really brings home is how we are connected! It's just a great read.
— Bill Newman, WHMP
Good Will & Ice Cream is available at local book shops* or buy it below.
(Trouble shopping? Please let me know!)
---
Inner Landscapes introduces us to honest-to-goodness people with exceptional, local yet universal stories that matter for our times: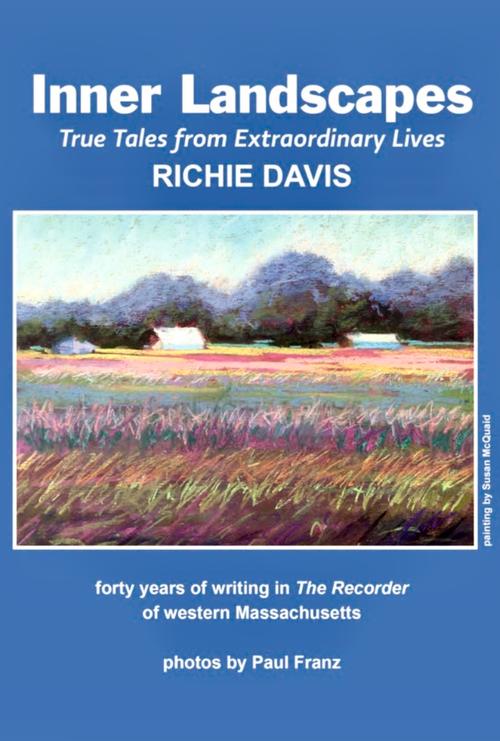 * An inner-city teen bonds with a 92-year-old Yankee farmer who's always lived off the land.
* A married couple reunites after separation, ready to resume life together and renew vows, but then the horrors of Sept. 11, 2001 intervene.
* A lifelong polio victim, confined for decades with breathing aids, soars writing volumes of poetry.
* An African-American couple who deliberately simplify their lives to uphold strict values of non-violence and social equality ...
* A young Israeli-born 'soul listener' committed to being fully present to the struggles of the world in turmoil around him
* Two veteran folk musicians who come together in the aftermath of losing language and memory to rediscover the power of writing and sharing music.
This collection of award-winning feature articles features a three-part series exploring the nature of creativity and its connection with spirituality.
"It's a beautiful new book, and a moving book
... an extraordinary book."
- Bill Newman, WHMP
Inner Landscapes is available at local bookstores or buy it below.
Order a print copy here (Trouble shopping? Please let me know!)
Order a digital copy with a watermark
* We live in a world that's like Alice's Restaurant, of course: You can get anything you want on the World Wide Web, and maybe even save a few bucks in the process. But these are local stories, from local journalism, so I encourage people to shop at local, independent booksellers that don't pay pennies on the dollars back to hardworking authors. Buying direct from this site ensures that the local writer, and the local publisher, get paid the full price of cost of producing this book. Local book shops also get a share of the price you pay, but since we believe in keeping local businesses humming, that's another ethical alternative where you can save on shipping. Whatever you choose, thank you!