If you can't stand the heat ...
The natural world can be hard for some humans to grasp in these times.
Especially in a world where Meta Quest, Vision Pro, and a host of metaverse games seem so much more compelling, it's confusing for a little heat, or a little smoke, to register.
A hot spell, like weeks of oppressive 90-plus, and even 100-plus 110-plus degree temperatures, with high humidity for supercharged threat to life, over much of the southern U.S. and the West, as it has baked the Indian subcontinent and parts of Europe at other times, can get to a person after a while, especially if the electric grid begins to melt down and water resources begin drying up.
A little smoke can be bearable, too. But days on end of dangerous particulates blanketing the Eastern U..S., and causing Chicago, Washington, D.C., New York and other cities to essentially shut down for their most vulnerable residents, begins to stop you in your tracks and long for the days when "normal" might return.
The hard reality is that it won't. No matter how much we taut the virtue of "resilience," find ways to laugh about bizarre conditions like surging seas, massive floods and hurricanes, it's difficult to accept that the magnitude of tornados, wildfires and other "extreme weather" conditions are bound to get much, much worse in most of our lifetimes.
"Get used to it. LOL"
The tick-borne diseases that we hardly knew a decade or two back, and the threat of mosquito-borne illnesses like dengue are as certain to spread as global temperatures rise, just as species like bats, bees and fish, along with those in the marine ecosystem become increasingly threatened by climate disruption and growing pollution.
In a mind-bending glimpse at our societal inability to recognize the clear handwriting on the wall, there are (remarkably) still those who deny that COVID posed a real health threat, that we needed to vaccinate, quarantine or wear masks to protect one another .... or that we need to prepare for the next inevitable pandemic.
Those masks are coming in handy again in nearly a dozen states where milllions of people are having difficulty breathing or face severe health risks just by doing so, as our world becomes the setting of a dystopian "Climate Survivor" reality show we're immersed in too slowly for some to notice. (And let's not overlook the fact that around 20 million acres have burned across Canada in wildfires that have released an historic 160 million tons of carbon into the atmosphere by the end of June this year. And think of the wildlife killed or displaced.)
I may hear news stories about the plight of extreme-heat victims or apartment shut-ins with their young children for days to avoid damaging their lungs, maybe forgetting the hurricane damage of a few months ago or ignoring that we're all facing the same existential threat, as long as my air conditioning and Internet keep me diverted and comfortable. We're protected only by our ignorance, politically manipulated denial and blind faith in human technology to miraculously fix everything and rescue us like a Dudley Do-Right or superhero flying in at the last second of a cliffhanger.
Have we really, as a nation, as a planet, rejected dealing with climate change immediately because curtailing fossil fuel burning is too costly? Really?
But back to reality, where our human failings prevent us from putting down our virtual reality goggles long enough to recognize that we need to make dire changes in basic assumptions of how much of our planet's resources we can consume to consume -- and the absolute need to reel in the gluttonous consumption habits of the richest among us worldwide. Because it's the oldest, the youngest, the most physically challenged, and of course the poorest among us who are most vulnerable to the ravages that climate scientists have repeatedly warned will become more a part of our daily lives, it's easy for profit-obsessed charlatans to convince many of us there's nothing to worry about.
Worrying, it's true, won't change anything. But waking ourselves up to reality might.
It's right here.
Please Follow the Almanac on Facebook
Check out my books, Inner Landscapes and Good Will & Ice Cream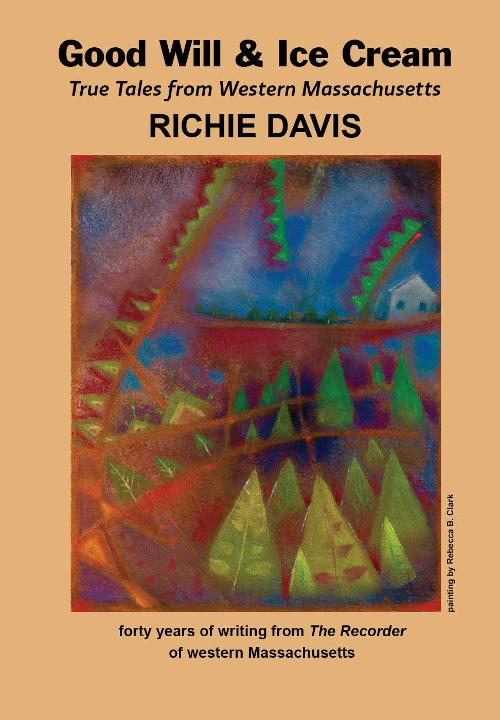 Coming soon: Flights of Fancy, Souls of Grace
Posted: to Poor Richie's Almanac on Mon, Jun 26, 2023
Updated: Fri, Jun 30, 2023