Our Double-Barrel Shootings: The Hidden Tragedy
The catastrophic shooting that left 19 small schoolchildren and two teachers dead this week at Uvalde, Texas, is — like the mass shooting at a Tops supermarket in Buffalo, N.Y. 10 days earlier — nothing short of horrific.
And the frequency with which mass murders has been occurring, and the willingness for a good part of the population to accept them as a new normal, is in itself despicable and chilling.
Incredibly, there have been more than 200 mass shootings already this year, according to the Gun Violence Archive. Last year, more than 1,500 children and teenagers younger than 18 were killed in homicides and accidental shootings, compared with about 1,380 in 2020.
There's an insidious shadow effect from these shootings that's also become pervasive, along with the media swarming and buzzing that we've come to expect almost as much as the numbing certainty that the maniacal carnage will occur again. Consider it a double-barrel effect from this game of American roulette we're now playing.
Much too obviously, whether it's Columbine or Parkland, Charleston or Sandy Hook ... whether it's a racially-motivated hate crime or the result of a mentally disturbed gunman's seemingly random act of loosing all self-control .... the incalculable tragedy extends not only to victims and their families, along with their communities, but extending outward — siblings, cousins, uncles and aunts, grandparents, their own friends and neighbors — perhaps into future generations of those traumatized families and for all close to them, close to those in those shaken communities.
These effects as well to countless others, near and far, who've become terrorized about their own security, as they go off to school, send their children there, go shopping, go anywhere in our already anxiety-whipped society.
The "grotesque deja vu" of news coverage — as one headline put it — that follows each shooting becomes a seemingly endless cycle that serves to reinforce that terror, seeking answers to the obvious, and sometimes banal, questions: How did it happen, with all the reconstructions of details. Who was involved? Why did he do it? What was his intent? Where did the weapons come from, how were they obtained? How long was the gunman in the school before being shot?
Yet beyond that litany of mind-numbing media -stirred minutiae that bury essential truths, there are endless echoes of real questions we repeat:
How could we let this happen?
Why can't we seem to stop these shootings?
When will we come to our senses as a society that embraces its right to weaponize more than it embraces its citizens, especially children?
Who will have the guts to end this gun-worshiping insanity?
THE SECOND barrel that accompanies each shooting, beyond all the grief and sorrow, is nowhere near as obvious, but just as deadly, just as much a tragedy in the long tun.
With every round of eulogies and condolences, every repetition of these societal self-criticisms of why we allow the carnage to go on and on, there's an erosion of our crucial sense of efficacy, the essential agency that's been part of living in a functioning democracy -- our ability to affect positive change. The danger is that we become disaffected wretches of despair, rather than practicing the hard work together of preventing horrible tragedies like we've experienced.
Before the smoke has cleared the air, opponents of gun control in this country have already assumed their usual positions. Donald Trump, together with Texas Gov. Greg Abbott, Sen. Ted Cruz, and other GOP politicians are set to address the National Rifle Association's "Leadership Forum" in Houston just three days after the shooting.
President Joe Biden immediately called for taking action in slowing the rate of gun deaths in this country.
But he stopped short of immediately seeking a ban on assault weapons or steps to strengthen control guns. Given the political polarization paralysis that's become a given, and repeated patterns of denial by forces lined up against any gun control measures, many of us begin feeling we're hitting our heads against the wall.
These repeated cursed acts of terrorism can numb us from taking the kind of actions we expect in a mature, democratic society — organizing, identifying policy changes we need to pursue, petitioning legislators, actively supporting candidates who'll fight for tough control measures — seem a waste of effort given our worsening political crisis.
After Sandy Hook, after the 2018 March for Our Lives protests, what more of an impetus could we have had to stop this?Instead of depending on the tried-and-true apparatus of democracy to address yet another crisis staring at us in the face, we can turn to cynicism.
Cynicism, which quickly turns to apathy — especially when we're so overwhelmed, and so distracted — further undermines our democracy and discourages reaching out to each other to act for the common good.
In cynicism, our sense of efficacy becomes the second great victim of these shootings. We begin to feel disempowered, helpless ... and angry as well, at the political barriers purposely set before us.
That anger is — like fear — a key tool in the arsenal all those who have used wedge issues to stir culture wars for decades, to divide us. Whether it's "replacement theory," or induced panic over critical race theory, Sharia law, a 'socialist agenda', 'grooming' young people or threatening to take people's guns away, the vitriol atrophies our souls. The conempt spewed by those lacking consience or awareness they themselves have been duped, those devoid of genuine empathy or sense of wonder — feeds our sardonicism in a world where cynicism has been running rampant.
The more cynical we become, the less likely we are to make use of the tools endemic to democracy, like reaching out to one another and educating ourselves. The more cynical we become, the more desperate we become, perhaps like the perpetrators of violence themselves.
We're told that essays like these need to end with a positive outlook, offering suggestions to avoid leaving readers feeling hopeless.
The reality, though, is that we are at a loss for how to respond — much as we're left feeling inadequate and unable to deal with today's absurdity.
The only solution, it would seem, is to fight back hard against the propagandists who distort our sense of possibility, who have warped us into believing that we need for first- and second-graders to wear body armor, or that each of us needs to become fully armed to defend ourselves for the pathetic vigilante Gunsmoke Nation the NRA envisions for us all.
And as we surrender to cynicism, we surely deny our own humanity.
As Kenneth Clark wrote, "It is lack of confidence, more than anything else, that kills a civilization. We can destroy ourselves by cynicism and disillusion just as effectively as by bombs."
So no, we refuse to become mired in anyone's cynical snare. As Pirkei Avot teaches, "You are not obligated to complete the task, but neither are you free to desist from it."
Please Follow the Almanac on Facebook
Check out my books, Inner Landscapes and Good Will & Ice Cream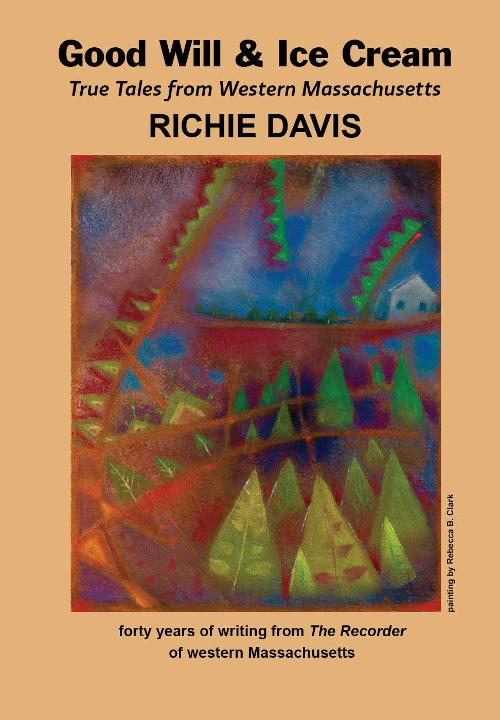 Posted: to Poor Richie's Almanac on Wed, May 25, 2022
Updated: Thu, Dec 1, 2022