Media, Messages & Me (Part 1)
Black and white.
TV was always that when I, together with it, grew up together. Even those late-night test patterns.
So were newspapers, of which there were so many. (And "read" all over, before they began disappearing.)
And radio was pretty much all AM. Transistors meant that without those hot vacuum tubes, we could carry them in the palm of our little hands, use an earplug, and even bring them to the beach for that tinny sound of rock WABC or WMCA, growing up in New York.
A gray, fairly static and very avuncular Walter Cronkite gave the news at 6:30, right after the local newscast with weatherman Tex Antoine drawing his happy sunshines or feisty clouds with magic marker. In the daytime, there was Miss Francis with Romper Room, Claude Kirschner with Terrytoon Circus or a host of older men in uniforms presenting Popeye cartoons or Abbott and Costello, Our Gang Comedies, Laurel & Hardy. And when there weren't Heckle & Jeckle or Merry Melodies cartoons, there was I Love Lucy, Sky King or Lassie reruns to keep us entertained.
All in black & white, which mirrored the civil rights clashes we would glimpse on the nightly newscasts that gave us the faintest clue that there was a critical struggle in farway, unimaginable places like Alabama, Georgia, Mississippi.
In our suburban, semi-finished basement, where no one would ever sit, was a vintage 1940s AM / shortwave radio and phonograph cabinet stocked with Broadway musicals -- our Great White Way down under: "Oliver," "My Fair Lady," "Oklahoma," "Mr. Wonderful" and more.
Just upstairs, in the den, my mom watched Search for Tomorrow or As the World Turns by day when I was a tot. With my dad on Sunday afternoons, I'd watch his favorite: The Twentieth Century with Walter Cronkite, showing all of that World War II footage that seemed so old but dated back no more than 15 years at the time!
Later on, the Wonderful World of Disney ushered in color TV, and my father would buy a multicolored plastic sheet to try convincing us our black-and-white NBC peacock was showing rainbow plumage before shelling out money for the real thing.
Meanwhile, my mother found her way to "talk radio" on WMCA (which had turned hot-button WABC into the main beacon of rock for younger listeners until it found its way to what had been exclusively easy-listening FM) and WNBC.
It would be junior high before the endless stream of callers could be heard with talk-show hosts Brad Crandall , and Imus, solidifying my retreat to my room to listen to stereo rock/stereo folk hosts Scott Muni, "night bird" Allison Steele and former-AM host 'Murry the K' on WNEW-FM .... when I wasn't savoring raconteur Jean Shepherd's incomparable storytelling ... usually in the dark, to let his imagery .
I'd also begun listening to AM station 1010 WINS shortly after it started its revolutionary all-news-all-the-time format, presenting an endless of cycle of headlines, weather, sports and traffic. 880 WCBS would soon follow. And years later, CNN.
Back on color television, the three networks, together on VHF with a trio of independent, rerun stations (think Soupy Sales, Three Stooges and endlessly looping Million Dollar Movies -- along with Channel 13's welcome educational television reborn as Public Broadcasting System --were joined by seemingly infinite UHF channels, and later -- despite the "Save Free TV" campaign at local movie theaters, cable TV. There had been a degree of quality even when there were a handful of networks -- think of the programming like the Bell Telephone Hour, Hallmark Hall of Fame, Huntley-Brinkley or even 60 Minutes. But creating more pies didn't necessarily make any of them better.
Each new offering came, we were told, so that WE could have more choice. Ultimately, there seemed like more flavors but in my humble opinion, quality was rarely a choice.
When I returned on one visit from college in 1971, I remember listening to James Taylor singing "You Can Close Your Eyes" on the family's new component stereo through headphones as my parents had one of their arguments upstairs, a million miles away, as tears streamed down my face. Wasn't it nice to be home again?
Just a few years later, I was in my own home, miles away, with kids of my own. The first house I owned had a brook, a dirt road, and a TV antenna atop a 80-foot pine tree that despite its rotator delivered us only one station, a CBS affiliate. After pulling our TV out of the closet each night to watch Walter Cronkite give the news (and once a week, to enjoy Bob Newhart play a sitcom psychologist) we decided the TV was a goner. I'd simply had enough.
That was 1984, the last time I had television reception, and my kids grew up with "special time" reading each evening instead of the tube. And that's the way it was.
Follow the Almanac on Facebook
Check out my books, Inner Landscapes and Good Will & Ice Cream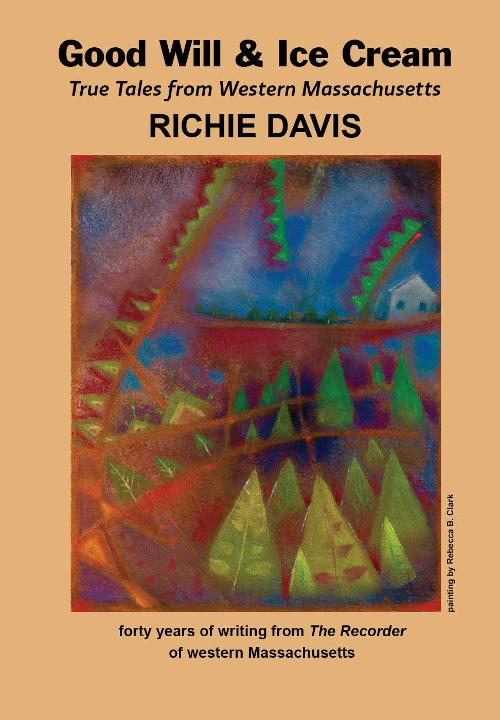 Posted: to Poor Richie's Almanac on Fri, Feb 28, 2020
Updated: Sun, May 29, 2022