Beyond Thanks
After a lecture series in neighboring Charlemont where I was asked to participate in a forum on "the Use and Misuse of Religion in American Political Life" eight years ago together with Gustav Niebuhr, I read his book, "Beyond Tolerance: Searching for Interfaith Understanding in America." That led me to began thinking deeply about the need for us to move beyond tolerance and acceptance of difference to embracing and celebration of what makes us each unique and the ways in which we can use those differences to make our own lives more meaningful.
So as we approach this holiday that we've come to associate with turkey dinners, "turkey-day" football matches and the mad rush to begin the Great American Shopping Season, I believe that simply taking the time to ask around our holiday gatherings, "What are you thankful for?" is far from enough.
Somehow, we can never get enough stuffing or mashed potatoes or pumpkin pie at this annual ritual that was always my favorite American holiday because its roots run so deep into our cultural psyche ... just as the culture and its commercially-minded controllers can never get enough Christmas. Yet seemingly when we mention or ask about the notion of thanks, it's rarely more than a slight taste of those deeper, more meaningful question: "What are the many, many aspects of life that we need to be truly grateful for?""To whom should we offer gratitude?"
And most importantly, "What are our responsibilities that should be met to express that gratitude so that we can truly share the bounty of our lives?"
I'm reminded of spiritual practices that gently remind us to be conscious of every breath we take, every morning that our soul is restored, of every bit of nourishment that we take in, every rainfall, every harvest. That nothing be taken for granted.
At this moment, my gratitude even extends to seeing our democracy play out in the Congressional impeachment investigation, to the extent it is able to. There's so much more I wish that our Constitutionally provided-for institutions could have offered us, there's so much opening of eyes, opening of minds, opening of hearts that I wish would be realized. But my hope is that we can see the process play out for the best, and that we can work to make that happen so that justice can prevail.
Just this morning, I received an email from a friend who has devoted her life to tikkun olom -- repair of the world. She wrote from Addis Ababa, where she is working with religious, political, and civil society leaders to create inter-ethnic and inter-religious relations for subduing violence and encouraging peacebuilding. She wrote, "Being back in Africa is a reminder of how little we in the US know and see. It reminds me that the world is so much larger than our own miserable and all-consuming political problems. It inspires me with levels of resilience and determination that hardly seem possible. It affords me the privilege of meeting remarkable, kind, caring, smart human beings whose lives are on the edge."
It was a reminder that as we try to dispel all of the rush and clutter of the daily lives that crowd in on what really matters to begin to take stock on the myriad blessings that should be part of our ongoing consciousness and appreciated, we also need to recall all those around us who are far less well off. These include well over 25 million refugees around the planet as well as the millions of unemployed, underemployed, malnourished, diseased and victims of war, abuse and discrimination. How can we celebrate Thanksgiving while turning away, or even simply turning a blind eye, to asylum seekers who are desperate to escape violence and opppression? How can we hold these humans in our hearts and in the light as we take stock of our own blessings,
And what is our responsibility, individually and collectively, to welcome them in spirit as part of our own Thanksgiving? What actions can we take to extend to try to lessen their want, if only in a small way, as we take hands around the table in a collective expression of grace?
One of my very favorite songwriters, Bob Franke, came closest to capturing what I believe is the deepest meaning of this most meaningful of holidays in the extraordinary anthem, "Thanksgiving Eve":
"It's so easy to dream of the days gone by
So hard to think of the times to come
And the grace to accept every moment as a gift
Is a gift that is given to some
What can you do with your days
But work and hope
Let your dreams bind your work to your play
What can you do with each moment of your life
But love 'till you've loved it away
Love 'till you've loved it away
There are sorrows enough for the whole world's end
There are no guarantees but the grave
But the lives we have lived and the times we have spent
Are a treasure to precious to say.
What can you do with your days
But work and hope
Let your dreams bind your work to your play
What can you do with each moment of your life
But love 'till you've loved it away
Love 'till you've loved it away."
Check out my books, Inner Landscapes and Good Will & Ice Cream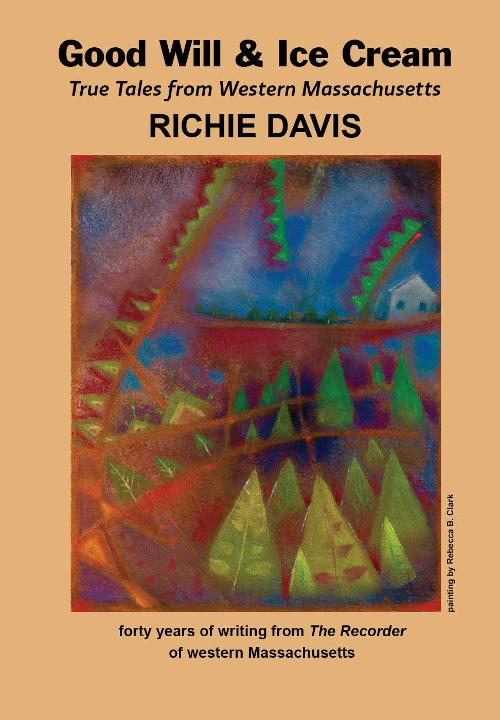 Posted: to Poor Richie's Almanac on Fri, Nov 22, 2019
Updated: Sun, May 29, 2022